Q. MY TAP IS CONSTANTLY DRIPPING FROM THE END OF ITS SPOUT
If your tap has a constant drip from the end of its spout, it usually indicates that one, or both of its valves (also known as cartridges or glands) have worn and is allowing water to pass through. Replacing the valve(s) isn't a difficult job and there shouldn't be any need for a plumber. Anyone quite 'handy' can do the job – and our valve change video is great for extra hints and tips. Find the right replacement valves for your tap by clicking on your tap's brand on the home page and then finding the model of your tap.
Q. MY TAP HAS WATER LEAKING FROM AROUND THE BASE OF ITS SPOUT
If your tap is leaking from around the base of its spout – that's where the spout meets the tap's body – then it would normally suggest that your tap's O rings and/or seals have perished. Replacing your tap's O rings is a simple job with our O ring/spout seal repair kit. Find the right O ring/spout seal kit for your tap by clicking on your tap's brand on the home page and then finding the model of your tap.
Q. HOW DO I KNOW WHETHER TO BUY REPLACEMENT VALVES OR A SEAL KIT FOR MY TAP?
The parts you buy are all to do with where your tap is dripping from. If your tap is dripping from the end of its spout - the very end, where the water comes out - you need to buy replacement valves. If the drip is coming from around your tap's body, it's likely that its seals (also known as O rings or washers) need replacing.
Q. WHAT'S THE DIFFERENCE BETWEEN VALVES AND CARTRIDGES?
There's no difference. We call them valves; others call them cartridges. And some call them glands! Whatever you choose, buy a set of replacement valves if your tap is dripping from the end of its spout.
Q. IS THERE A DIFFERENCE BETWEEN SEALS AND O-RINGS?
Nope. These fit between the base of the tap's spout and its body. Over time, they perish, which is why your tap drips from around its body. All our seal kits come pre-greased for easy fitting.
Q. I'VE REMOVED MY TAPS OLD VALVES, BUT THERE SEEMS TO BE A BRASS RING STUCK AROUND THE MIDDLE OF THEM THAT ISN'T ON THE REPLACEMENT VALVES I'VE BOUGHT?
This is a really common problem, but don't worry – it's likely we can help you. The brass ring you're referring to is called a bush and on older taps, bushes sometimes become stuck around the middle of the valve. The bush is needed to fit your new, replacement valves, so here's what to do.

Firstly, wipe the bush and the inside of your kitchen tap with kitchen towel – just to remove any dust, grit or debris. Then, using Loctite 638, which is a specialist, WRAS approved metal adhesive, smear a little of the Loctite around the bush and inside your kitchen tap. Replace the old valve and bush into your kitchen tap and allow at least 20 minutes for the Loctite to dry. Then, unscrew the valve again. This time, you should find the valve can be removed, without the bush. If the bush is still stuck to the valve, check to see if we also sell replacement bushes for your kitchen tap – we try to stock replacement bushes for the most popular taps.
 HINTS & TIPS
DO check out your tap carefully. Taps can look alike, so it's worth being as sure as possible of your taps model before ordering. Take a good look at the shape of its spout, its body and its handles.

DO ensure you know where that drip is coming from before you buy! Usually, a tap that drips from the end of its spout will need replacement valves. DRIPPING or LEAKING from around the tap's body indicates that new seals are needed.

DO be aware that tap manufacturers often make 'generational' changes to their models and parts. Sometimes, the valves you remove will not look identical to the replacement valves you receive. We do our best to highlight such generational changes.

When your new replacement parts arrive, DO check out our fitting instructions and how-to videos.

Have a dry PAINTBRUSH to hand when fitting your tap's new valves - a quick brush of your tap's handle cavity and body will ensure there is no debris e.g. limescale. Sounds odd, but it can make the difference between your tap's handle fitting or a nasty gap!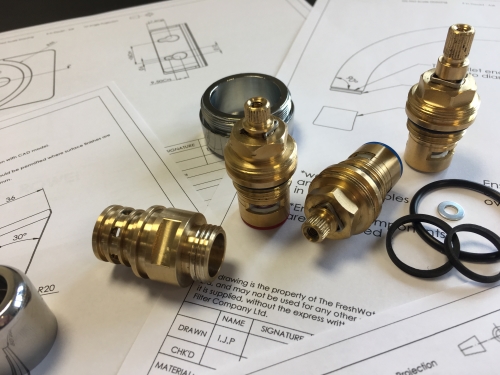 Still have questions? Contact us!